For Christmas, small sculptures available at -20% at the workshop by appointment. See contact sheet.
sculptures silhouettes of matter

I shape clay to create Raku Sculpture silhouettes in black and white to give life to my sculptures. »
« Works with pure and simple lines are born in my hands.



a raku ceramist on the wall


The black and white raku sculpture parading twice a year on the podium. The female figure in terracotta and ceramic comes to life as a sculpture of raku fire.The black and white is revealed by the raku firing, the last sculpture before the silhouette takes on its final appearance.
Marie Juge discovered Raku sculptures in 2005 during an encounter with ceramics.
Fascinated by travel and the fashion sector, her taste for movement and fabrics, she will imagine, cut, assemble and give volume to a ceramic silhouette. Mineral fabrics enhanced by the black and white of Raku.
Discovering new textures, raku, laces and my taste for volume are triggers for a desire to explore the clay.
Try, seek and find the shape, the rhythm are the key words of Marie's work.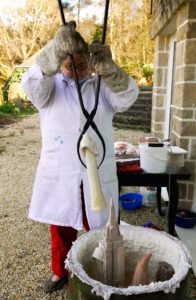 in situ creation of sculptures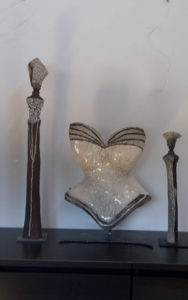 Marie realized for decorators and hotels installations around the world.
Silhouettes raku of materials scroll through your interior. Each raku sculpture is made according to your choices and tastes.
Since 2010 his work has been installed in interiors in the United States at Neiman Marcus, in India and in France in hotels.
Mary makes a silhouette that adapt to your desires and let its inspiration adapt to your decoration